EAS Newsletter March 14, 2023
EAS Education & Social Media:
How to get your message through on social media
This webinar series will teach us to maximize our use of social media for reaching, communicating, discussing & sharing the latest research & treatment of cardiovascular diseases with health professionals around the world.
This is the last call to register for the second part of the social media webinar series.
In this webinar, we'll explore both the potential and the pitfalls of social media in medicine. We'll hear from experts in the field who will share their experiences, insights, and best practices aimed to improve patient care, enhance professional development, and advance healthcare as a whole.
Thank you for joining us, and we hope you'll find this webinar both informative and engaging.
Update on the impact of nutrition on ASCVD
The optimal dietary interventions intended to prevent ASCVD remain a hot topic. Two European experts accepted to review and summarize the state of the art regarding the new insights into the functionality of the subspecies of saturated fatty acids and the wide spectrum of insights about the Mediterranean diet obtained after the Predimed trial.
EAS Publication:
Recent issue highlights – December 2022 & January 2023
Beyond cholesterol in plasma, low-density lipoprotein (LDL) or nonHDL and high-density lipoprotein (HDL), as well as triglycerides in plasma LDL, other biomarkers of lipid and lipoprotein metabolism get more and more attention. Among them, lipoprotein(a) (Lp(a)) has the strongest evidence of clinical utility and its clinical use for risk assessment is supported by guidelines. Others, such as remnants and subfractions of LDL, are intensively investigated in cohort studies. Mass spectrometry helps measure other lipid classes such as glycerophospholipids and sphingolipids. Their clinical validation has only started. Issues 363 and 364 contain several articles on Lp(a), as well as lipid determinants of LDL features or atherosclerosis.
EAS Congress:
Last day for early-bird registration. Don't miss out!
Don't miss out on the early-bird registration deadline for the 91st EAS Congress! Register before March 15 and join fellow experts and colleagues in discussing the latest advances and breakthroughs in the field of atherosclerosis. The registration deadline is tomorrow – book your place now!
Late Breaking Abstract Submission is now open
Exciting news! The late-breaking abstract submission for the 91st EAS Congress is now open. If you have new and groundbreaking research that was not available by the regular submission deadline, this is your chance to share it with the world. Don't miss this opportunity to present your latest findings to the top experts in the field. The deadline for submission is March 29, 2023.
EAS Education:
EAS Lipotoxicity Course
In recent decades, clinical research on lipids and lipoproteins was predominantly focused on the cholesterol and triglyceride content of lipoproteins and their pathogenic contribution to atherosclerotic cardiovascular disease (ASCVD).

This research strategy was very successful as it led to the development of prognostic algorithms and drugs that reduced the burden of ASCVD. However, both plasma and organs contain many other lipids including sterols, phospholipids, sphingolipids and fatty acids as well as many of their metabolic precursors and products. They are structurally very heterogeneous and fulfil a broad variety of functions including membrane and lipoprotein formation and signalling via cell surface or nuclear receptors. By altering cellular metabolism and function they exert positive and adverse effects on many organs and hence human health. The loss and gain of physiological and pathological functions, respectively, likely contribute to the pathogenesis of many diseases beyond ASCVD, such as diabetes mellitus, metabolic associated liver disease, heart failure, chronic kidney disease and neurodegenerative diseases.
The EAS LIPOTOXICITY COURSE aims to summarize and discuss our knowledge and perspectives on
the effect of lipid species on cell and organ function
the impact of lipotoxicity on organ damage
the contribution of metabolomics/lipidomics technologies toward better understanding of lipid metabolism, pathogenic mechanisms as well as identification of biomarkers and therapeutic target.
We are glad to announce top experts in the field have agreed to join the event and share their expertise in an interactive way. Looking forward to welcome interested scientists and clinicians in Prague for an exciting meeting.

The event will be held in Prague, between June 8-9 2023. To learn more and register please click the button below: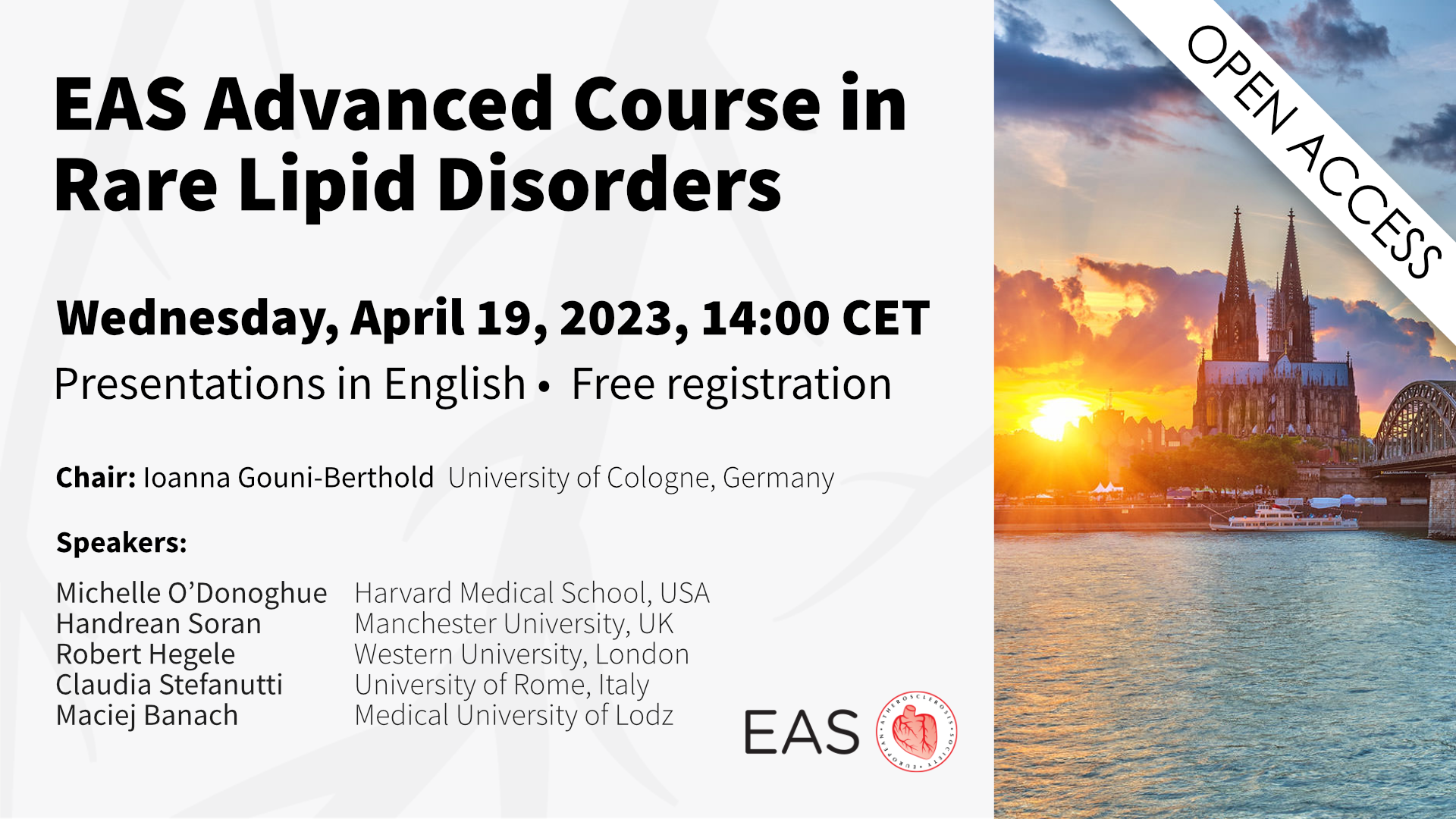 This is an EAS ADVANCED COURSE IN RARE LIPID DISORDERS
Endorsed by Sociedade Portuguesa de Aterosclerose & Sociedad Española de Arteriosclerosis
Friday April 14, 2023, 16:00-20:00 CET
Course directors: Prof Pedro Valdivielso and Dr Sequeira Duarte Location/Format: Virtual
Language: English
This is an EAS ADVANCED COURSE IN RARE LIPID DISORDERS
Wednesday April 19, 2023,
14.00 -17.00 CET
Course director: Prof Ioanna Gouni-Berthold Location/Format: Virtual
Language: English