EAS Newsletter March 07, 2023
EAS Education/Social Media webinar series
Register for the 1st social media webinar:
How to use social media effectively, broadcast Tomorrow at 18.00 CET with the medical media expert Dr. Kevin Jubbal
This webinar series will teach us to maximize our use of social media for reaching, communicating, discussing, & sharing the latest research & treatment of Cardiovascular diseases with Health Professionals around the world.
On the 8th of March the EAS on behalf of the EAS Social Media ambassadors will host the interactive digital workshop "How to use social media effectively".
Together with our experts Dr Jubbal, Prof Kaycioglu and Prof Sabouret, our hosts Prof Maciej Banach, Prof Roeters van Lennep and Prof Kaiser, will discuss how you can promote your career using social media. During the workshop tips and tricks will be provided, but also how to use Facebook, Instagram and Twitter to boost your carreer: what works and what not.
Finally we will have our EAS Social Media ambassador as panelists for your questions.
Register for the 2:nd social media webinar: How to get your message through on social media, March 15 at 18.00 CET.
To the webinar "How to get your message through on social media" Registration
EAS Education: 
Open Access Webinar – all you need to know about
the CLEAR OUTCOMES trial results, March 13 at 19.00 CET
It is our pleasure to invite you to a webinar organised by EAS for the Society's clinical community, including the Lipid Clinic Network members and Society members.
The Cholesterol Lowering via Bempedoic acid, an ACL-Inhibiting Regimen (CLEAR) Outcomes trial will be discussed at ACC.23.

In this webinar, open to EAS scientific and medical community, EAS experts look into what these new results may mean in clinical practice.

Join this EAS webinar to gain understanding of the scientific basis for the study & the role of Bempedoic acid in lipid-lowering therapy and CVD management.
We will be discussing key messages from the trial results, and exploring the implications of the trial findings on clinical practice.

Webinar programme
Introduction & welcome, Chair Lale Tokgözoğlu, Turkey
Study design, Maciej Banach, Poland
CLEAR Outcomes trial – results & key findings, Steve Nicholls, Australia
How will this change my clinical practice?, Ulrich Laufs, Germany
Panel Discussion: Maciej Banach, Ulrich Laufs, Steve Nicholls, Lale Tokgözoğlu & Alberico L. Catapano
Wrap up, summary, Chair Alberico L. Catapano, Italy
Registration is free
EAS has independently created and organized the programme for this webinar. Financial support has been provided by Daiichi-Sankyo.
To Open Access webinar the CLEAR OUTCOMES trial results Registration
EAS Congress:
Deadline for Early Bird registration, March 15

Join us May 21-24 in Mannheim, Germany to network with your colleagues from around the world, explore the latest science and innovation in atherosclerosis research and clinical practice, lectures by world leading experts, up-and-coming students, and everyone in between.
EAS Congress brings together delegates with wide-ranging interests, making for lively discussion and innovative approaches, as we tackle mutual challenges each from our own perspective.

The Congress features:
Plenary sessions with lectures given by eminent speakers
In-depth Workshops on selected cutting-edge topics
Industry-supported symposia
Science-at-a-Glance and poster presentations
…and much more! Register today!
To EAS Congress in Mannheim, Germany Registration
To EAS Congress in Mannheim, Germany Scientific Programme
EAS Education: 
EAS Rare Lipid Disorder Courses 2023
While the prevalence of each individual Rare Lipid Disorder is low, collectively they are important and the busy specialized practitioner will encounter patients with these conditions. Lipidologists need to be familiar with their diagnosis and treatment as they may be associated with high morbidity and mortality.
EAS run Rare Lipid Disorder Courses to improve recognition and understanding in this. The courses' objectives are to review practical aspects of evaluation and management, and to describe real clinical cases of these disorders.

The programme of Rare Lipid Disorder courses held during 2023 is now available on the website.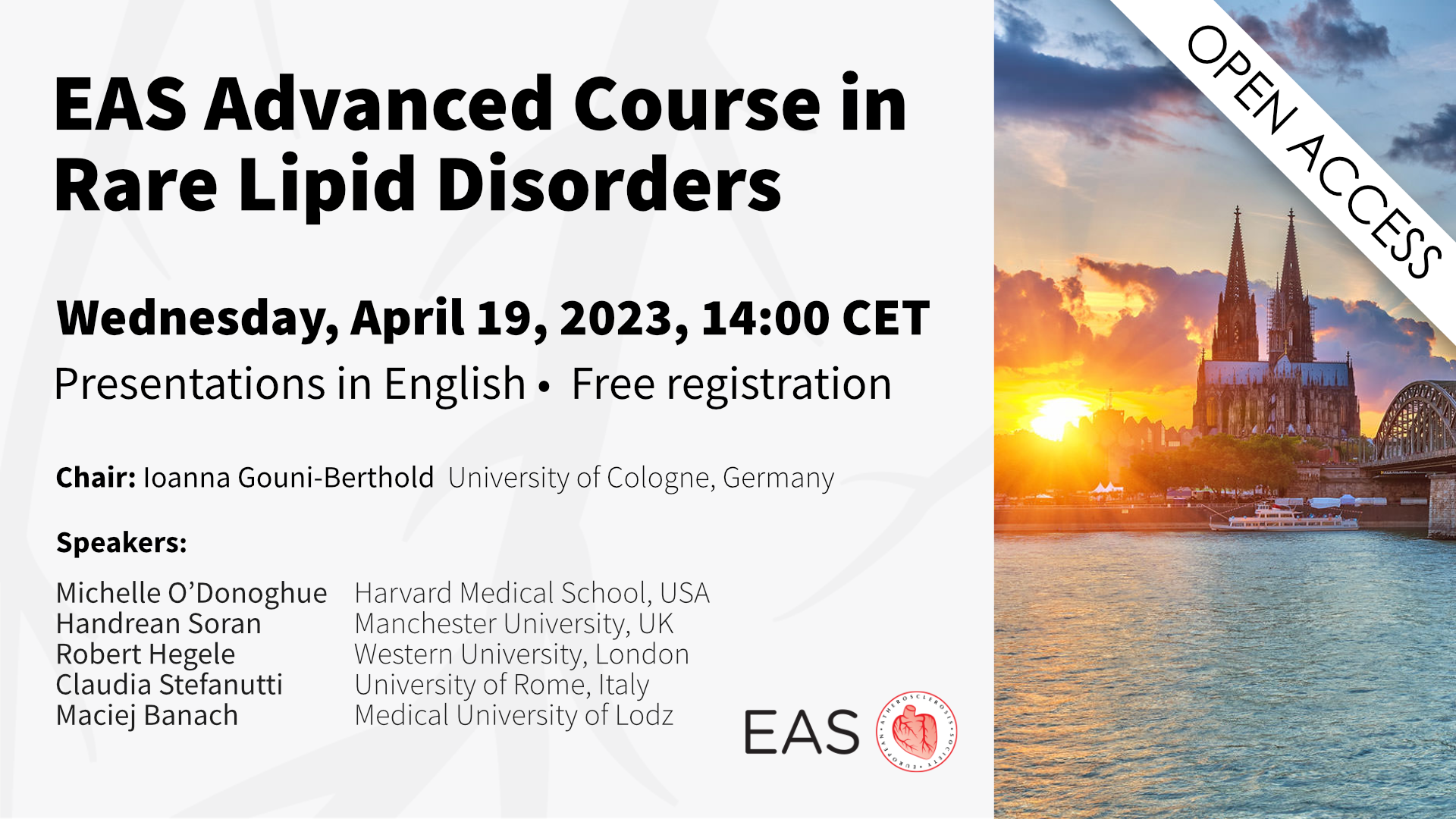 This is an EAS ADVANCED COURSE IN RARE LIPID DISORDERS
Endorsed by Sociedade Portuguesa de Aterosclerose & Sociedad Española de Arteriosclerosis
Friday April 14, 2023, 16:00-20:00 CET
Course directors: Prof Pedro Valdivielso and Dr Sequeira Duarte Location/Format: Virtual
Language: English
This is an EAS ADVANCED COURSE IN RARE LIPID DISORDERS
Wednesday April 19, 2023,
14.00 -17.00 CET
Course director: Ioanna Gouni-Berthold Location/Format: Virtual
Language: English.